Joined

Sep 22, 2018
Messages

7
SL Rez

2007
Joined SLU

January 1, 2014
SLU Posts

117
Event Date and Time

October 11 to October 20, 2019
BURN2 2019 -- Metamorphoses -- October 11 to 20
THE THEME
Think about transformations that you've experienced in your life - physical, emotional, mental, spiritual, etc. and examine what made those moments so pivotal for you.
Many cultures of the world have mythologies about transformations, or as the Greeks and Romans called them, metamorphoses.
In today's world maybe humans are not turned into animals and frogs don't become princes when kissed. But transformations can happen for a person or collectively for a group and these metamorphoses can have a powerful effect on our lives.
We invite you to immerse yourself in transformative experiences, explore the ideas and thoughts and dreams of creatives around you at BURN2. If you are an artist, a builder, a musician, a dancer, a singer -- come and enrich the environment with your creativity!
Plan a camp or art installation and reserve your plot today, choose it from the extended hands in front of the pool of Narcissus, review the builders guidelines. When we receive your plot owner's questionnaire answers, they will help us to give you the best placement possible.
Then get ready to participate in BURN2 2019: Metamorphoses! October 11-20, 2019!
PLOT SALES
Many of you are eager to get a plot reserved, so you can plan your camp/creative build/juried or non-juried art installations. We're excited, too! We can't wait to see everyone back Home on the virtual playa!
The BURN2 Metamorphoses plot sale is OPEN. The details about sizes and costs are as follows:
512 Plot -- L$2,800 LI = 156, max height = 16m, footprint 16m x 32m
1024 Plot -- L$5,600 LI = 312, max height = 20m, footprint 32m x 32m
2048 Plot -- L$11,200 LI = 625, max height = 24m, footprint 32m x 64m
4096 Plot -- L$22,400 LI = 1250, max height = 28m, footprint 64m x 64m
After you purchase your plot, we will follow up with a link to a questionnaire, which is required for placement. The things we ask about are very important for us to know - they help us to find the best placement for your plot. So you can be ready with answers, these are some of the things we will ask:
Do you prefer to be placed in the "Low Rules" sim, or no? (Desired placement not guaranteed - we do our best)
Do you plan to have a music camp with frequent and busy events?
What will be the name of your plot?
What will be the description for your plot?
Will you want a specific music stream playing in your plot? (must be non-commercial)
GET YOUR PLOT, RIGHT HERE!
The plot sale kiosks are on the playa, on Gerlach Road, across from the Black Rock Saloon. You can't miss it!
Here is the SLURL to get you there quick:
BURN2 2019 -- Metamorphoses -- Plot Kiosks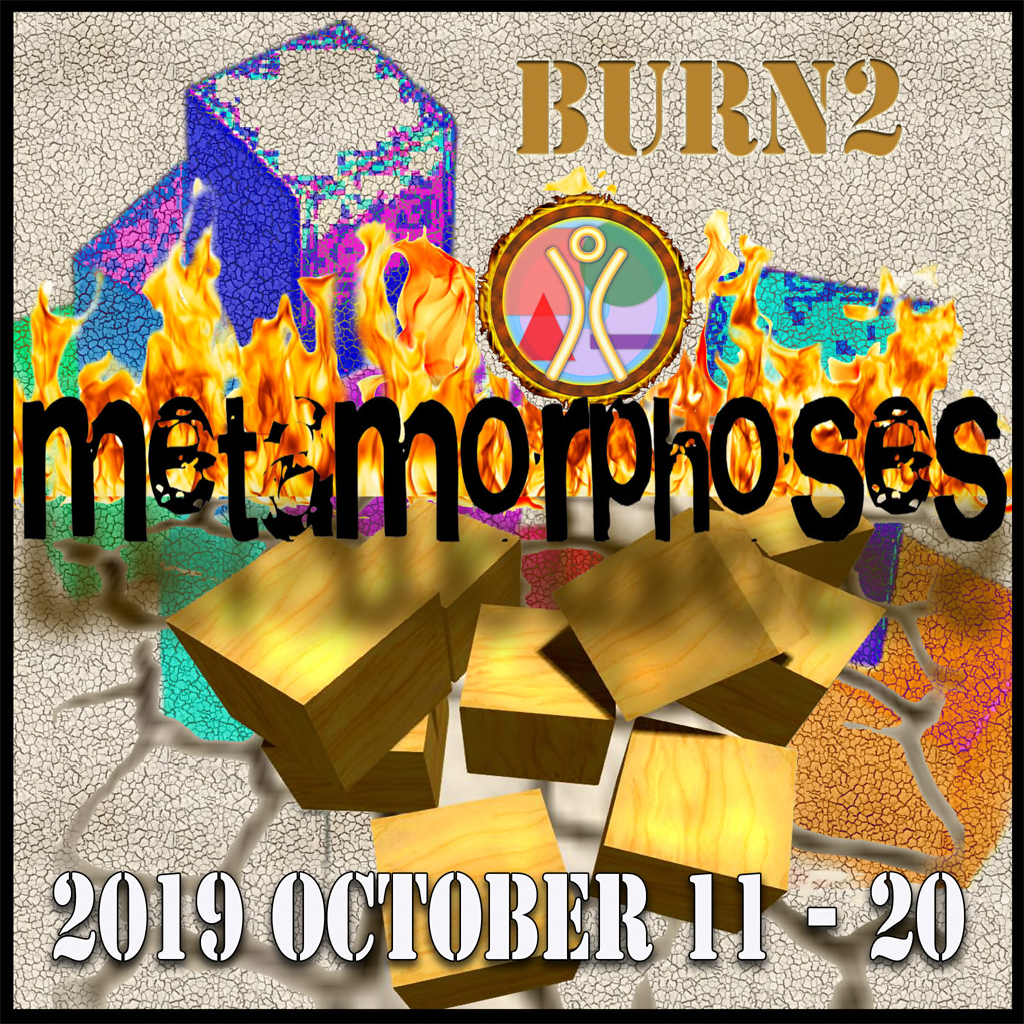 WHO ARE WE?
BURN2 is an extension of the Burning Man festival and community into the world of Second Life. It is an officially sanctioned Burning Man Regional, the only virtual world Regional out of more than 100 Regional groups worldwide, and the only Regional to burn the Man!
This unique virtual Regional spreads the culture and Ten Principles of Burning Man year-round in Second Life, culminating in an annual major festival of community, art and fire in the fall - a virtual echo of Burning Man itself.
BURN2 -- http://www.burn2.org/
Burning Man -- https://burningman.org/