Full Frontal Nerdity
Admin
Joined

Sep 19, 2018
Messages

3,125
SL Rez

2002
Joined SLU

Nov 2003
SLU Posts

35836
Last night,
moo Money
noticed that there was someone next to my land with an insane profile: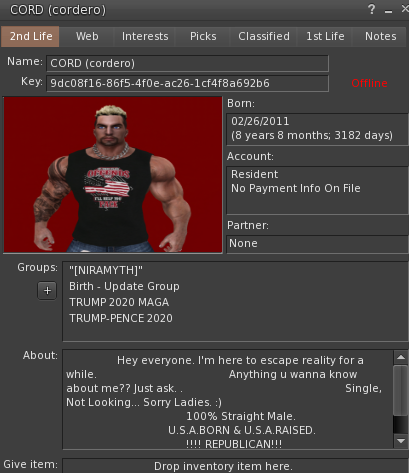 Here are some highlights from the profile:
"Here are some things you MAY WANT TO CONSIDER before speaking: #1 I am a REPUBLICAN .This means if you support Bernie, KIllary Or Barack Ovomit, We have absolutely NOTHING to say to each other, not even HI. If you like the idea of standing over a hole in the ground on two boards for a bathroom thats your right, but I sure don't. Or living in a mud house with no running water. Go right ahead and do that. Tell me how fun it is. #2. If you DON'T SUPPORT our current President, DONALD J. TRUMP. .Don't Talk To Me. Period. If you think kneeling for the National Anthem is cool, Dont Talk To Me. If you like Planned Parenthood, Don't Talk To Me. If you support the gay lifestyle, Don't Talk To Me. If You think doing Drugs is okay, Don't Talk To Me. YES THAT MEANS WEED TOO DUMMY!!!! If You want Gun Control, Dont Talk To Me. Have fun throwing rocks at a intruder who's trying to kill you or your family. If your against Law Enforcement, Don't talk to me...."

"IF YOU DONT SUPPORT OUR MILITARY, DONT TALK TO ME, IF YOU SUPPORT BLM OR ANTIFA DONT TALK TO ME, IF YOU THINK MUSLIMS ARE GREAT WE HAVE NOTHING TO SAY TO EACH OTHER EVER. IF YOU NEED A SAFE SPACE TO CRY AND CUT YOURSELF DONT TALK TO ME. I DON'T SUPPORT PANSIES OR WIMPS. AND IF THE AMERICAN WAY OFFENDS YOU OR OUR FLAG OFFENDS YOU THEN YOU CAN PACK YOUR SHIT AND GET THE FUCK OUT OF THIS COUNTRY!!!!! WE DON'T WANT, LIKE OR NEED YOUR KIND HERE. SO THE MORAL OF THE STORY IS THIS: IF YOU'RE A PINKHAT WEARIN', LIBERAL MIND THINKING, OUT TO DESTROY THIS COUNTRY IN ANY WAY YOU CAN, WE CANNOT BE FRIENDS IN THIS LIFE OR ANY OTHER ONE. F OFF!"

"* I HATE money beggars. I'm not a damn bank. Earn it like I did. * I don't want your damn vamp bites. Bloody slobber does not appeal to me. * I don't want to be your collared slave. Or chained.. or whatever that BSDM is.* * I believe in Karma, treat others like shit and you will eventually become the toilet!!!!"

THIS IS JUST TO LET PEOPLE KNOW THAT I AM 1 MILLION PERCENT STRAIGHT, BELIEVE IN TRADITIONAL MARRIAGE AND NO AMOUNT OF CONVERSATION WILL CHANGE THAT. *TAKE THE BACKWARDS WEIRD STUFF ELSEWHERE I DON'T WANT TO HEAR, TALK OR KNOW ABOUT IT. (LGBT) < ---> чøυ 凸'へ'凸 su¢к. !! TRUMP 2020!! ツ】【ツ】【ツ】【ツ】【ツ】【ツ LOOK AT PICTURE FOR MY MESSAGE!!!!
And his inworld av: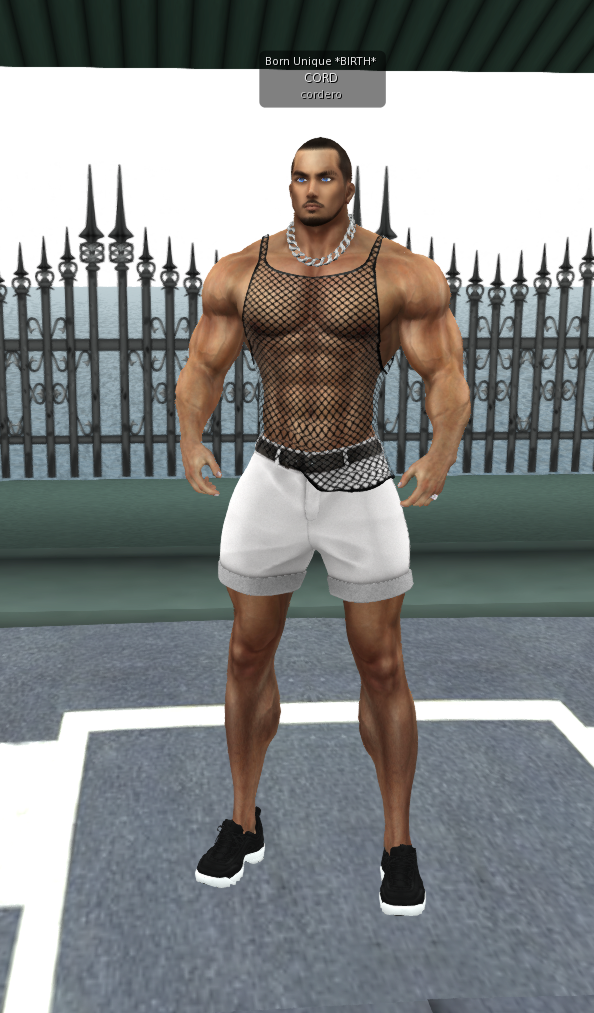 That was before he put on luscious lady locks: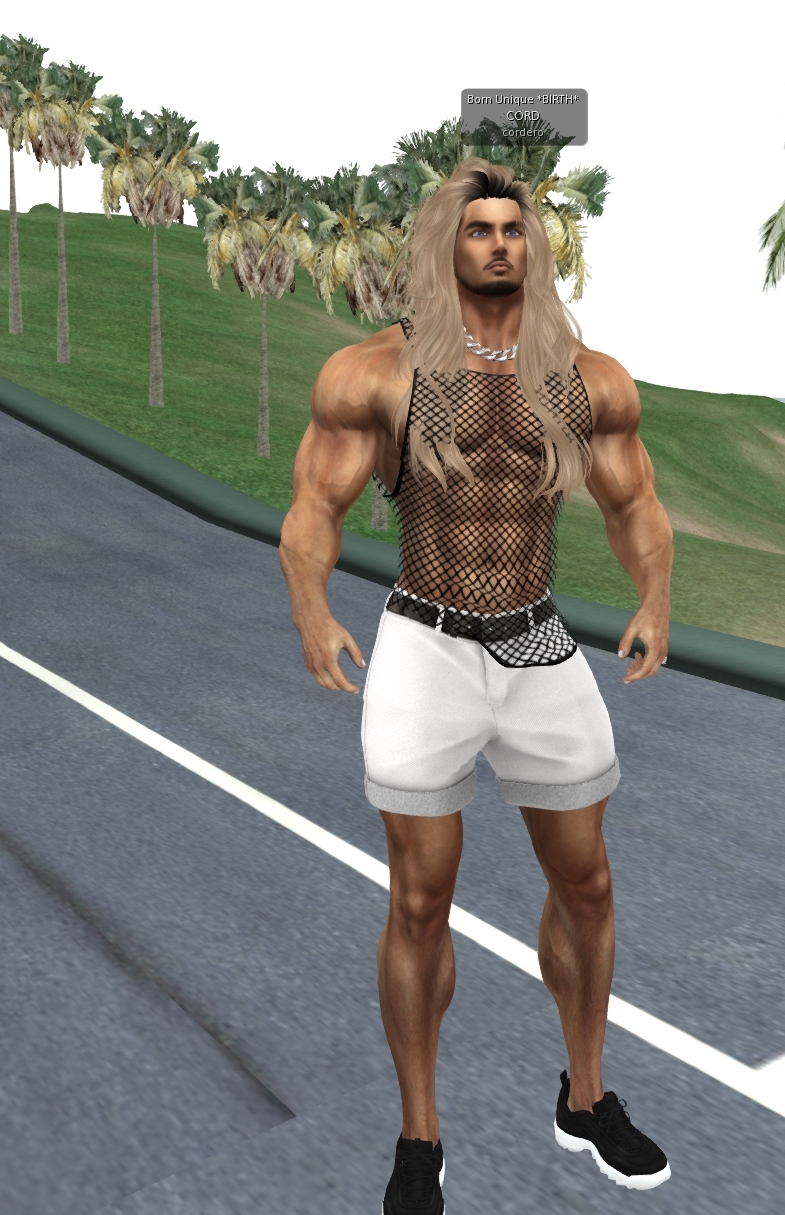 So of course we took all of this as a challenge. Moo put on her Democrat hair and I whipped out the swim trunks with a prominent bulge and we hit the road. ONE OF US WOULD HAVE HIM.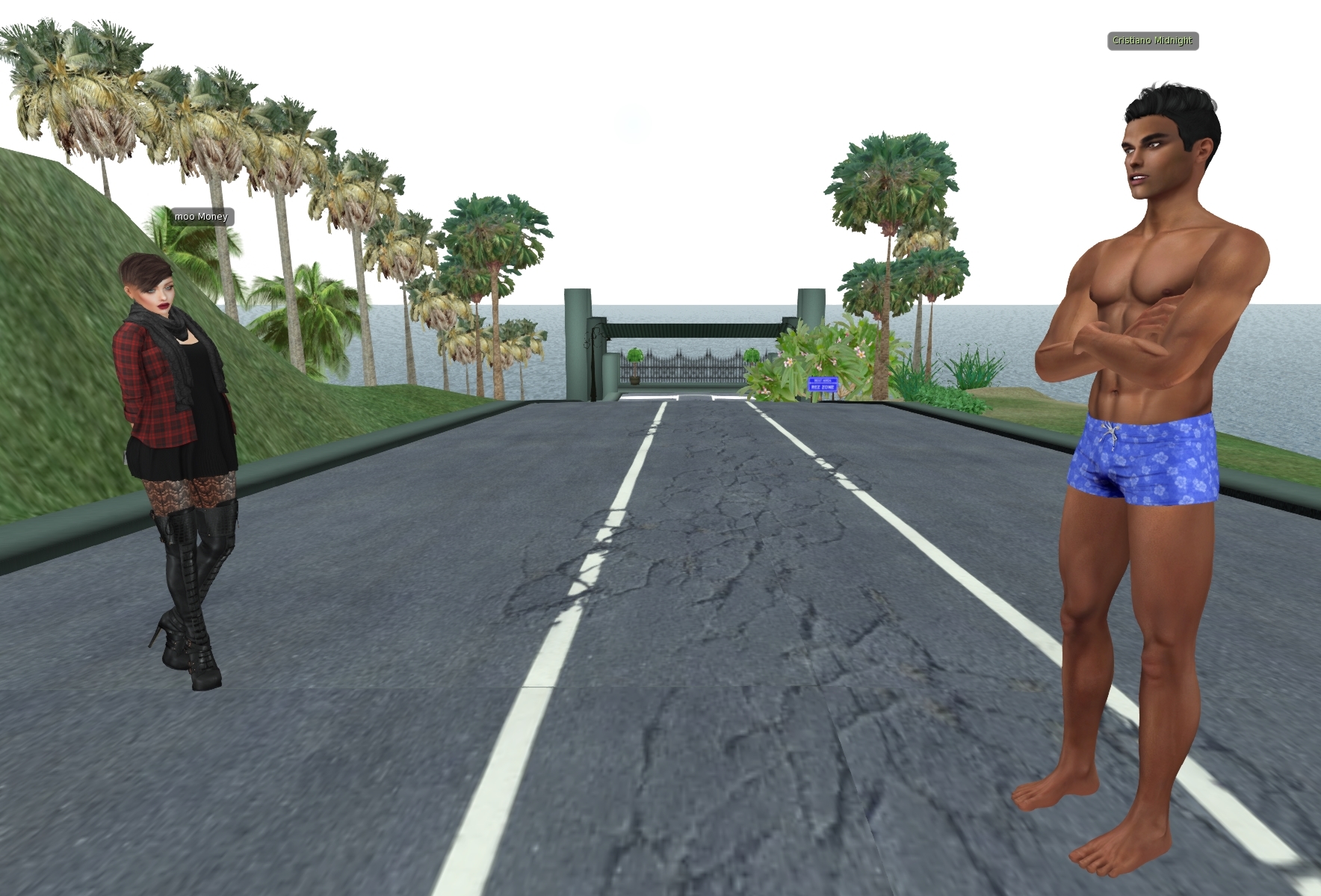 Sadly, our efforts were for naught. All we did was say hello and ask if he was our neighbor, and he ran away, though not before leading us a to a Trump 2020 sign on the edge of my land on the Linden land side: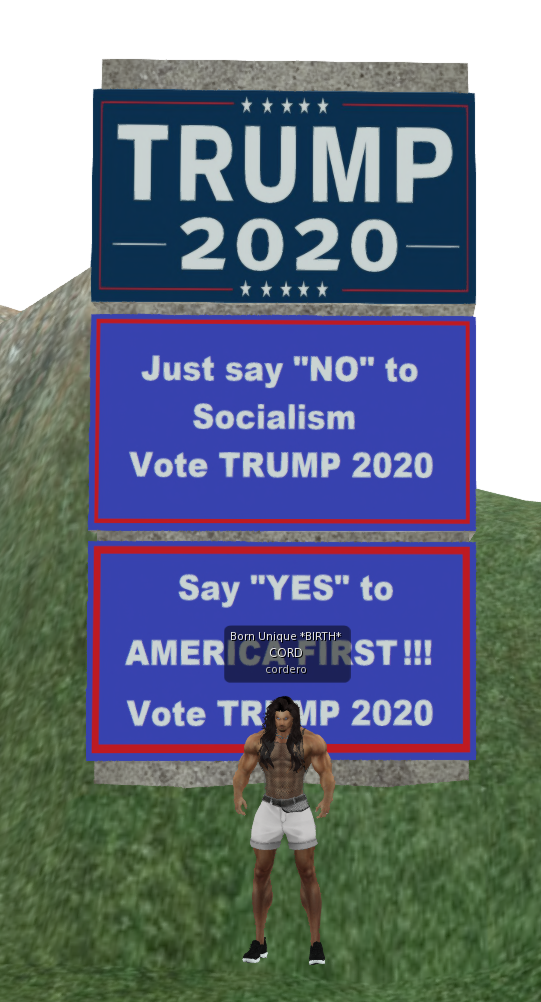 Oh CORD, you will always be the one that got away. Maybe we can meet again in the SL Lost Connections forum. Until then, keep on truckin, you HUNK OF 100 MILLON PERCENT STRAIGHT MAN.